Event Services
University Center, Minneapolis
Saint Mary's University Center
2540 Park Avenue, Minneapolis, Minnesota
Cardinal Advantages
Thank you for your interest in Saint Mary's University Center, a multiple-space event center on our Twin Cities campus in Minneapolis. We offer exceptional service and excellent support to assist you in creating the ideal event for your guests.
With rooms of 600 to 8500 square feet, the University Center is capable of serving a small business conference, to a keynoted seminar with breakout rooms, to a dinner reception for 400 guests. Saint Mary's University Center is well-equipped to serve small gatherings of 20 to major events for 500 guests. The direct entrance to the first floor Ballroom and elevators to the second floor rooms welcome guests of all physical abilities. The spacious foyer with its grand chandelier is ideal for guest registration and greeting.
Ballroom

Table Seating for 400 Guests
Main Floor, Lobby Entrance
Elevated, 24′ x 13′ Permanent Stage
Ceiling-mounted Projection
Large 16′ x 9′ Video Screen
Full-service, Built-in Beverage Bars
Huge 40′ x 30′ Permanent Dance Floor
Divisible into Two Separate Rooms
Banquet Room
Conference Rooms
Trustee Lounge
Intimate Setting for Socializing and Small Dinner Parties
Classic Beverage Bar with Brass Rail
Table Seating for 40 Guests
Reception Style for 75 Guests
Customized Room Set-up
Design the room to fit your agenda with round tables for eight people, or a conference style "U" or square, or theater seating –straight, angled, or curved rows, adding exhibit tables or allowing room for program activities or dancing. Each space has adjustable lighting options and individual-room climate control.
A Product Launch Celebration…
Gala Fundraiser…
Professional Development Workshop…
Annual Corporate Meeting…
50th Wedding Anniversary Dinner . . .
The spacious rooms of Saint Mary's University Center offer flexible options for room set-up, easily accommodating a multitude of event agendas and activities.
Each event planner receives a colorful room layout map and the guarantee of accurate and precise room preparation.  The event services staff takes great pride in providing clean and welcoming spaces.
Room Capacity Chart

First and Second Room Dimensions 
Sample Room Maps
Full Service Catering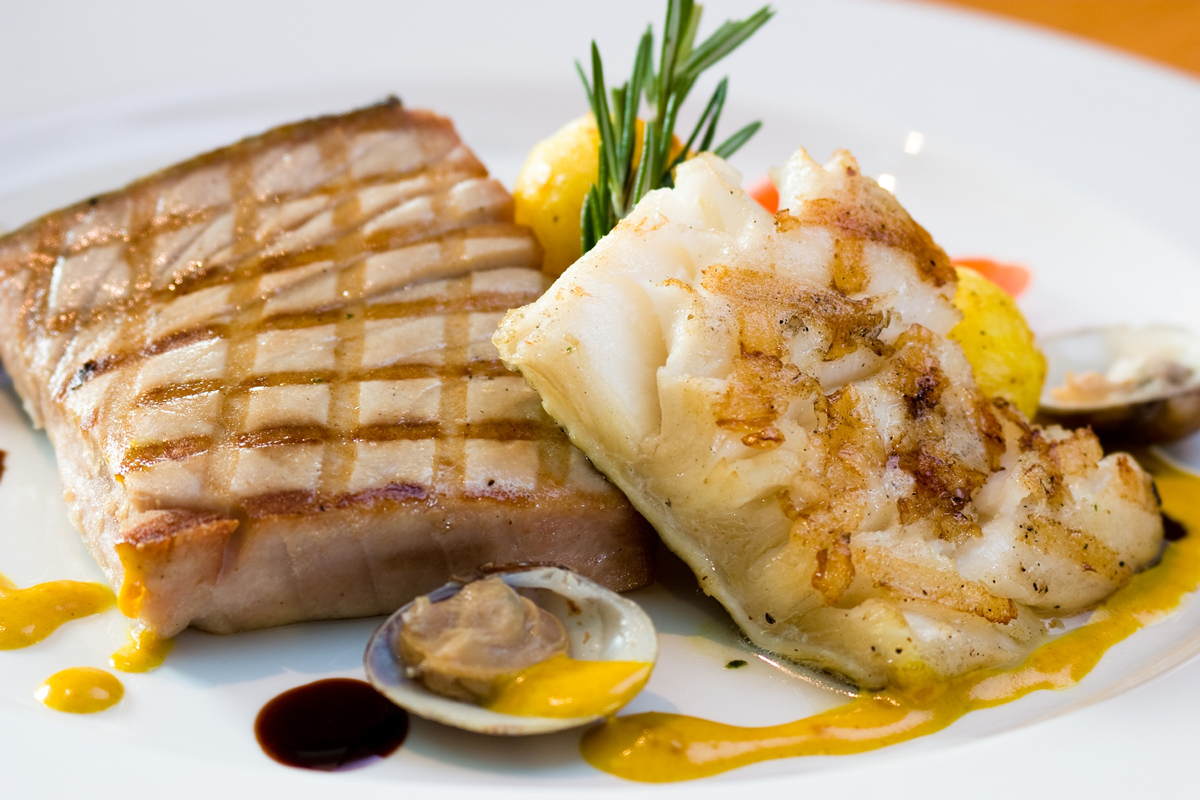 Using the on-site, restaurant kitchen and built-in beverage bars, the University Center's preferred and select caterers offer outstanding food and beverage service while accommodating diverse menu preferences and budget requirements.
Our preferred and select caterers will assist you in creating a delectable event menu in the style you envision with the quality you expect.
Using the on-site restaurant kitchen and built-in beverage bars, these professional caterers provide exceptional food and beverage service, readily accommodating diverse menu requests and honoring budget requirements.
Technology Support Before and During Event
A tech support advisor; microphones; projectors and screens (ceiling-mounted and portable); laptop computer; and powerful WiFi Internet connection are complimentary with every room rental. Advanced media services are available from trusted vendors.
You'll have no worries about your event's technology needs when hosting an event at the University Center. Our event coordinators are extremely knowledgeable about presentation software, Internet-based media, and equipment connections.
Begin your corporate event with an attention-grabbing video.
Prepare an awesome professional presentation with desktop software or online apps.
Create a heart-warming photo slideshow for a family celebration.
Enhance your event with a personal music playlist created on your iPod or iPad, a CD or DVD.
Powerful, complimentary WiFi Internet connection supports every guest's device.
University Center staff will gladly assist with software tutorials to ensure your media presentation is first class.   Help is available for Microsoft Office, Google Docs, and Adobe Creative Suite products.  Event planners and presenters are welcome to arrange a pre-event testing of slideshows, music, and videos.
Centrally Located
The University Center is easy to access from both downtown Minneapolis and St. Paul, the local airports, nearby hotels, and public transportation. Free parking is available in our dedicated lot and on all surrounding streets.
Guest Maps
A campus road and parking map, personalized with your event details and that can be freely distributed to all your guests, is complimentary with room rental.  Sample Map.
Saint Mary's University Center is located in the mansion corridor of historic Park Avenue in Minneapolis and convenient to all guests however they arrive:
Drivers
Free parking is available in the University Center's dedicated parking lot of 100 spaces and on all surrounding streets.  Our GPS coordinates are Latitude   44.957   and  Longitude   -93.265
Bicycle Riders
Event attendees taking advantage of the many Twin Cities bike lanes are welcomed with a guard-watched bike storage area.  Connection to the Greenway Bike Trail is just three blocks away.
Hotel Shuttle Service
The University Center is two miles from downtown Minneapolis and 15 minutes / ten miles from downtown St. Paul. There are more than 15 hotels within three miles. 
Airport Travelers
The commute to the Minneapolis-St. Paul Airports is ten miles and available via community cab services and Metro Transit's light rail and bus transport.
Metro Transit
With ongoing enhancements and improvements, the regional Metro Transit offers transportation options via commuter rail and light rail trains, and hybrid electrical buses. Throughout the day, numerous city buses stop at the University Center.
Convenient Rental Process
Room rental is available seven days a week, 6:00am – 12:00am (midnight).
Rental rates are based on
day (weekday / weekend)
time of day (morning / afternoon / evening)
and length of event (actual hours of event).
We offer special pricing for Saint Mary's University alumni, non-profit organizations, and multiple-day or multiple-space rentals.
For more information and/or to schedule a tour, contact:
Gena Bilden
612-728-5145
gbilden@smumn.edu